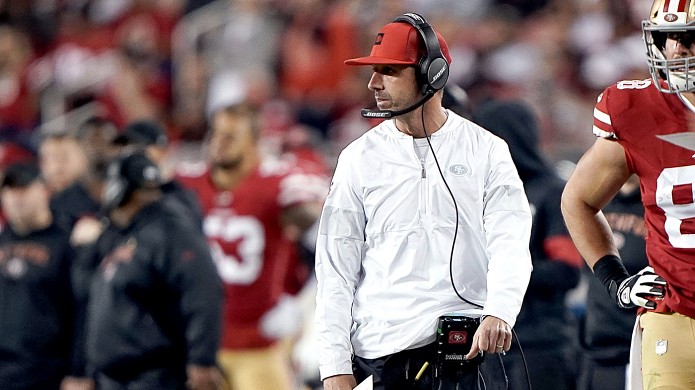 While most seem to expect the San Francisco 49ers to select a wide receiver with the No. 13 overall pick in this year's draft, the team could go in several directions. The 49ers have options — even potentially trading their first selection.
Draft analyst Matt Miller of Bleacher Report shared what he's been hearing from his sources around the league, and most of them expect San Francisco to fill one of two needs at No. 13, and trade back from No. 31 to acquire more draft equity in later rounds. While the 49ers own two first-round picks, they lack a selection between rounds one and five.
"Two picks in the first round could add much more firepower to an already good roster," writes Miller, "but many league sources expect the 49ers to attempt to trade back from No. 31 overall after targeting a top wide receiver or cornerback at No. 13."
Matt Maiocco of NBC Sports Bay Area stated this past week that he would not be shocked to see the 49ers trade down from No. 13 if the players they love are off the draft board.
Wrote Maiocco: "If they love a player in that spot, they will undoubtedly make their selection. … But if one or two targeted players are not there when it's the 49ers' turn to select in three weeks, they will almost assuredly look to bail out of No. 13. That would allow the 49ers to pick up more selections to take advantage of what is expected to be a deep draft at a number of different positions of need."
Miller understandably has Jeff Okudah of Ohio State as the top-ranked cornerback on his most recent big board. No one expects him to fall beyond the first few picks, however. The next-best cornerback in Miller's ranking is CJ Henderson of Florida, who the analyst mocked to the Atlanta Falcons at No. 16, three selections after San Francisco's pick.
Miller responded to one fan who criticized the report that the 49ers might use the No. 13 overall pick on a cornerback. In Miller's defense, Richard Sherman is entering the final year of his contract and the position opposite Sherman has been in flux in recent years. So securing a future starter via the draft isn't the wildest idea out there.
The most popular scenario for the 49ers among mock drafts has the team selecting Alabama wide receiver Jerry Jeudy at No. 13. That is followed by CeeDee Lamb of Oklahoma and Henry Ruggs of Alabama.
H/t to Josh Schrock of NBC Sports Bay Area for the find.